Derag Livinghotel Großer Kurfürst
Overview
| | |
| --- | --- |
| Address: | |
| Apartments: | |
| Price: | From 77 € / night |
Rooms & Apartments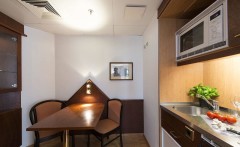 Approx. 22-26 sq.m.
Partially with connecting door
French bed or twin bed
View on the Spree or the Wallstrasse
Partially with bidet
Average Price:
85 € / Night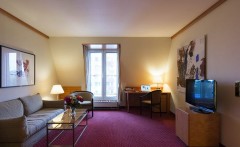 Approx. 25-31 sq.m..
Fully equipped kitchen or kitchenette
French bed or twin bed
Combined living and sleeping area
Seating area with armchair and/or couch
Average Price:
77 € / Night
approx. 41-89 sq.m.
Separate living and sleeping area
Spacious living room with armchairs and couch
View on Spree or the Neue Rossstrasse
Fully equipped kitchen or kitchenette with dishwasher and dining area
Average Price:
97 € / Night
Comfort, quality and a pleasant atmosphere make the Derag Livinghotel Großer Kurfürst one of the city's gems. Due to its outstanding location in the heart of Berlin's historic centre as well as its great connectivity to public transport, not only business- but also culturally interested travelers will have a pleasant stay in the Derag Livinghotel Großer Kurfürst.
Location
The Derag Livinghotel Großer Kurfürst is located in the centre of Berlin next to the river Spree. The metro stations "Märkisches Museum" and "Spittelmarkt" are situated within walking distance. The city's hotspots, such as the Alexander Square or the Brandenburger Gate, are also located within 10 minutes from the Derag Livinghotel Großer Kurfürst. Apart from that, the famous TV tower and the museum island are just around the corner. If you want to commute by bike, you can rent a bike at a rental station of the German Railways right in front of the apartment hotel.
People coming by train to Berlin will find it easy to commute to the Derag Livinghotel Großer Kurfürst. Just take the bus 147 from the main train station and get out at Märkisches Museum. You will be standing directly in front of the Derag Livinghotel Großer Kurfürst.
International and national travelers staying in the Derag Livinghotel Großer Kurfürst will also be able to easily reach the aparthotel from the airports in Berlin. Airport Berlin Tegel is around 12 kilometres away and you can commute to the apartment hotel in Berlin using public transport (Bus 147, U6, Bus 128). Airport Berlin Schönefeld is located further outside. You can easily commute there using various trains (e.g. regional trains or S7, S8 or S45) from Ostbahnhof Berlin.
The Apartment Hotel
The Derag Livinghotel Großer Kurfürst hosts 144 modern and comfortable rooms as well as serviced apartments. Once you enter the Livinghotel, you will see that the imposing lobby speaks for itself. After an exhausting day in Berlin's city centre or a busy working day, feel free to relax at our Spa or lose some steam at the hotel-owned gym. If you feel like planning another exciting day in Berlin, the 24 hour reception is happy to offer you various arrangements. The breakfast buffet is open from Monday to Friday from 06:30-10:00 am and on weekends from 07:00-10:30 am. With a face view of the river Spree, the hotel-owned restaurant "Cana" is one of Berlin's first picks when it comes to authentic arabian kitchen. In a modern and luxurious atmosphere breakfast as well as lunch and dinner is served at your convenience. Furthermore, enjoy one of the delicious cocktails on the restaurant's riverside terrace.
Rooms and Apartments
The rooms and apartments in the Derag Livinghotel Großer Kurfürst are modern and comfortable. Choose among Economy rooms, Business rooms, Superior rooms/apartments and Executive apartments.
They all include a working desk, a separate sofa bed, safe, mini bar, high speed internet access (WiFi) and a telephone with voicemail.
There are 4 different types of rooms and apartments in the Derag Livinghotel Großer Kurfürst:
Economy
These rooms offer a combined living and sleeping area with a french bed. All these rooms offer a view into the imposing Livinghotel lobby. The size of each of these rooms amounts to 22 square metres.
Business
These rooms offer an impressive view on the river Spree or the "Wallstraße". These rooms offer either a french bed or a twin bed. The size of the rooms ranges between 22 and 26 square metres and are partially connected to other rooms through a connection door.
Superior
Ranging from 25 to 31 square metres in size, these rooms offer a combined sleeping and living area, including a seating area with armchairs and/or couch. The serviced apartments come with a fully equipped kitchen or kitchenette and a french or twin bed.
Executive
These rooms present an imposing view either on the river Spree or the "Neue Rossstraße". The sleeping area, which comes with a double bed, and living area, which comes with a spacious seating area, are separated. The fully equipped kitchen includes a dishwasher, stove, fridge and dining area. The size of these apartments range from 41 to 89 square metres.
General amenities
24h reception
Air condition
Fully equipped kitchen
Pay TV
Map