Many business travelers, who already booked their apartment hotel through our platform, know the following scenario: They arrive at beautiful places and cities and all they do is work. It is true that it is hard to get to know a city and its vibe. However, also business travelers should discover the city they are currently following their professional endeavors in. This is why we want to present a special episode for business travelers staying in our apartment hotels in Berlin: Sightseeing in Berlin for Business Travelers.
Business Travelers in Berlin
Independent of your length of stay of your business trip to Berlin, there is one thing business travelers lack – time! When you are away from your hometown to work in Berlin, you can be sure that busy times are ahead. Still, many business travelers staying in our aparthotels in Berlin also want to experience the creative and yet historical character of Berlin. Therefore, sightseeing in Berlin for business travelers has to be both exciting and compact. This is why we advice to check out the following sightseeing tours for business travelers in Berlin.
The sightseeing tour for business travelers (duration 35 minutes): Holocaust Memorial, Brandenburger Gate and Reichstag
When you are short on time make sure to check out at least our short route to do proper sightseeing in Berlin for business travelers. Get off at the metro stations U6 Französische Straße , U5, S1 or S2 Brandburger Tor or U55 Reichstag and start exploring Berlin's most famous sights. It is best to either start at the Holocaust Memorial or the Reichstag and walk along the western part of the Berlin Zoo.
The Brandenburger Gate is probably the most famous sight to see in Berlin. When you do sightseeing in Berlin for business travelers seeing the Brandenburger Gate is an absolute must-do. The Brandenburg Gate is a former city gate that formed the start of the road from Berlin to Brandenburg.
The Reichstag is another important sight so see and seat of the German parliament. The building is a magnificent one and you should definitely take the opportunity to take some photos from the park, which is located in front of the Reichstag.
The Holocaust Memorial is also world-famous. It is deemed to honor the victims of the second world war. The bricks and stones have a very special character and are worth visiting. When you walk inside the Holocaust Memorial, people doing sightseeing in Berlin for business travelers will be able to dedicate their time to those victims.
Reichstag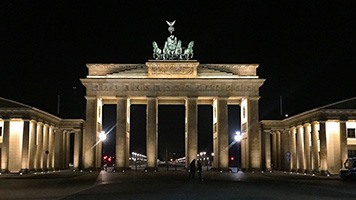 Brandenburg Gate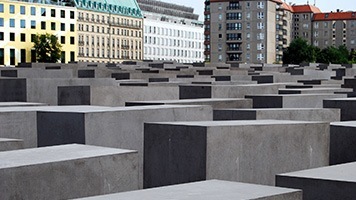 Holocaust Memorial
The extention (duration: additional 25 minutes): Potsdamer Platz
If you feel like getting to see another important spot in Berlin during the above descript small sightseeing tour for business travelers make sure to walk further on to Potsdamer Platz after having visited the Holocaust Memorial. Potsdamer Platz is a very vibrant square in Berlin. Many events, such as the film-festival Berlinale, are hosted there.
Sightseeing in Berlin for Business Travelers: sightseeing route
Other important sights to see
Alexanderplatz
Alexanderplatz in Berlin is not only a big transport hub but also an important square in Berlin. The famous Fernsehturm is very close by and definitely worth a visit. Alexanderplatz is a very special sight to see for business travelers in Berlin due to its magnitude and its vibrance. The world watch is another famous sight located at Alexanderplatz. The square was called after the Russian emperor Alexander.
It is very likely that you pass by the Alexanderplatz, while traveling by Metro, train or bus. This is the reason why we highly recommend taking 15 minutes to check out the magnitude and vibe of the square.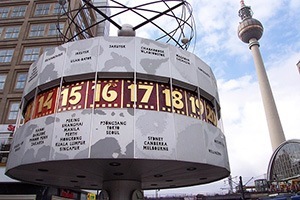 The Berlin Wall
Before the fall of the iron curtain in1989, the Berlin Wall separated the city of Berlin into East and West Germany. While the western side of the wall was covered with graffiti art, the eastern side of the wall remained grey. In June 1990 the actual demolition of the wall began. Before that euphoric Berliners and souvenir hunters were tearing down parts of the wall themselves. However, parts of the wall remained and today serve as an important touristical attraction. When completing sightseeing in Berlin for business travelers, one should not forget about the Berlin Wall and its history.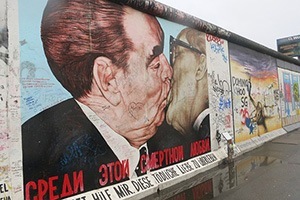 Accommodations for business travelers in Berlin
Apartment Hotels Europe lists four aparthotels in Berlin. Business travelers staying in the apartment hotels enjoy the freedom of having their home away from home. Fully equipped kitchens inside your apartment, professional printing services, meeting rooms and fitness & spa areas will make your stay in Berlin a pleasant one. If you have further questions about sightseeing in Berlin for business travelers, make sure to ask the friendly receptionists and hotel staff in your aparthotel in Berlin.